Raventree fine Pewter
Hand Poured by Mark Krehbiel
in Beautiful Maine
with many designs by Carla Dunlap - Artist extrordinaire


207-390-0525
Box 66 Thomaston Maine 04861

Raventree Pewter is Made by Hand!
Each piece is hand poured one at a time with the finest lead free pewter. .
All finishing work is also done one at a time by hand to ensure it's unique look and feel.

DISPLAY:
Each piece comes with a description card telling about the image to help convey the message. On the back is brief description of the pewter.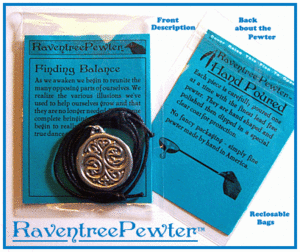 They come strung on adjustable Black Waxed Linen Cords in a cellophane resealable bag.

PRIVACY STATEMENT:
Raventree does not share or pass on your information to anyone.
Also the web site provider, Smart Cart, is very good and doesn't have any hidden things either. It is safe and secure and straight forward.
If you are worried about Credit Card info on line there are many ways to order. Click on Ordering and Shipping button on the left column.
By registering or ordering you may be automatically added on the e-mail list. I send out very few e-mail notices. Usually when there is a sale or to introduce new designs. So you won't get flooded with junk mail.
EVENTS TO SEE PERSONALLY:
I am reworking my fair schedule. If you know of events in New England or Maine specifically that you would like to see me at feel free to send a message through the "Help" link.

The pieces are hand poured in a very simple ancient fashion. The molding techniques I use are very unique to this metal. Britannia Pewter is difficult to pour and takes a special skill and understanding of working with the metal, but it's special warm and bright properties are worth the extra time.
After pouring each piece is cut, ground, and polished by hand one at a time ensuring the craftsmanship.
The final pieces are strung on a black cotton cord and come with their own description cards describing the meaning of the design.
With over 20 years experience I have earned the title of "White Smith"  ie... a craftsman of white metals.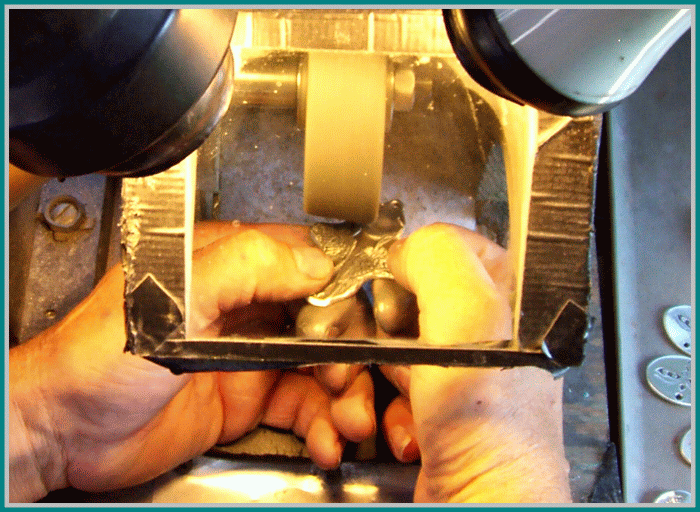 Ravens are very mystical birds. In ancient lore they bridge worlds and deliver messages from greater Spirit. Trees are one of our strongest connections with nature. We each feel a pull towards and feel healthier when surrounded in the forest. Combining these two powerful connections we have I have chosen Raventree as a name to honor the path I have chosen of helping bridge mankind with our more spiritual connection with ourselves and nature.
DESIGNS:
I create or choose designs that seem the truest renditions of the message. Often the older sources carry more meaning and connection than later more popular ones. I search and listen for those which ring the truest.
TO HELP MOTHER EARTH:
I strive for an efficient and simple studio with many features striving to help the environmental impact.
Almost all lighting is compact florescents to help reduce energy. LEDs are still coming to age and will soon be affordable alternative.
I choose absolute minimum packaging! The description cards are compact and chosen to save paper while allowing enough room for the messages. I choose simple reclosable bags that can be opened without ruining the packaging. 
All pieces are made by myself in America. They are not imported. This helps our economy and reduces fuel use by not being shipped from far distances before they are even ordered.
I recycle all pewter cutting and filings possible back into the melting pot.
I have a new super efficient pewter shop. The most power needed when working in the shop including lights and stereo is less than 350 watts. That's all! How? I was very careful to purchase small efficient items simply to save power and impact on the earth. This does not include the pewter burners or heating in winter. But the new burner system uses 1/3 less propane than I used to and is not on very often. The new shop is less than 10% of the volume of space than the old shop and heats on a portable propane tank or two a month in winter. Keeping things simple and small helps the earth and all her creatures - including us. 

and just for fun a few odd notes for a smile.
Raventree pewter has...
NO ARTIFICIAL COLORS or FLAVORS
NO MSG
NO GENETICALLY MODIFIED INGREDIENTS
NO NANO PARTICLES
ZERO CALORIES
CRUELTY FREE ... AND TESTED ON ANIMALS. They love them :)
OUTSOURCING is when I work outside on sunny days.
l tried the 30% more for free but they looked really strange with the pouring sprues left on.
ALLERGY NOTICE - products are made where I often snack on nuts and other healthy foods.
.
Taking a break from pewter to watch toboggan races.
                               Thank You and enjoy, Mark